Are you an architect or just a curious person who would love to know more about Architecture and designs? Well, we would love to help you out so that you can look over the best architecture websites and publish your work or simply search for more designs on them.
While we had been reviewing the websites, we had some amazing insights about each of them and you can learn along with us.
A lot of people have been thinking of renovating their homes or apartments, and there is no better place to look than architectural websites.
You will find tons of modern and stunning designs on these sites that can surely inspire you for any of your projects or your home. Some of these websites may also have the option where you can submit your work too and showcase it to the world.
Apart from all of this, if you simply want yourself to be updated on everything happening in the architectural world, well, these sites do the best job for you. So, let us not waste more time and get on with the list. Here we go.
Best Architecture Websites – Our Top Pick 👌
1. ArchDaily – Most popular architecture websites For Architecture News
ArchDaily built in the year 2008 is one of the biggest Architectural Websites you can find on the internet. When we say the biggest, this means it has everything you need to know about the latest trends, designs, projects, products, etc.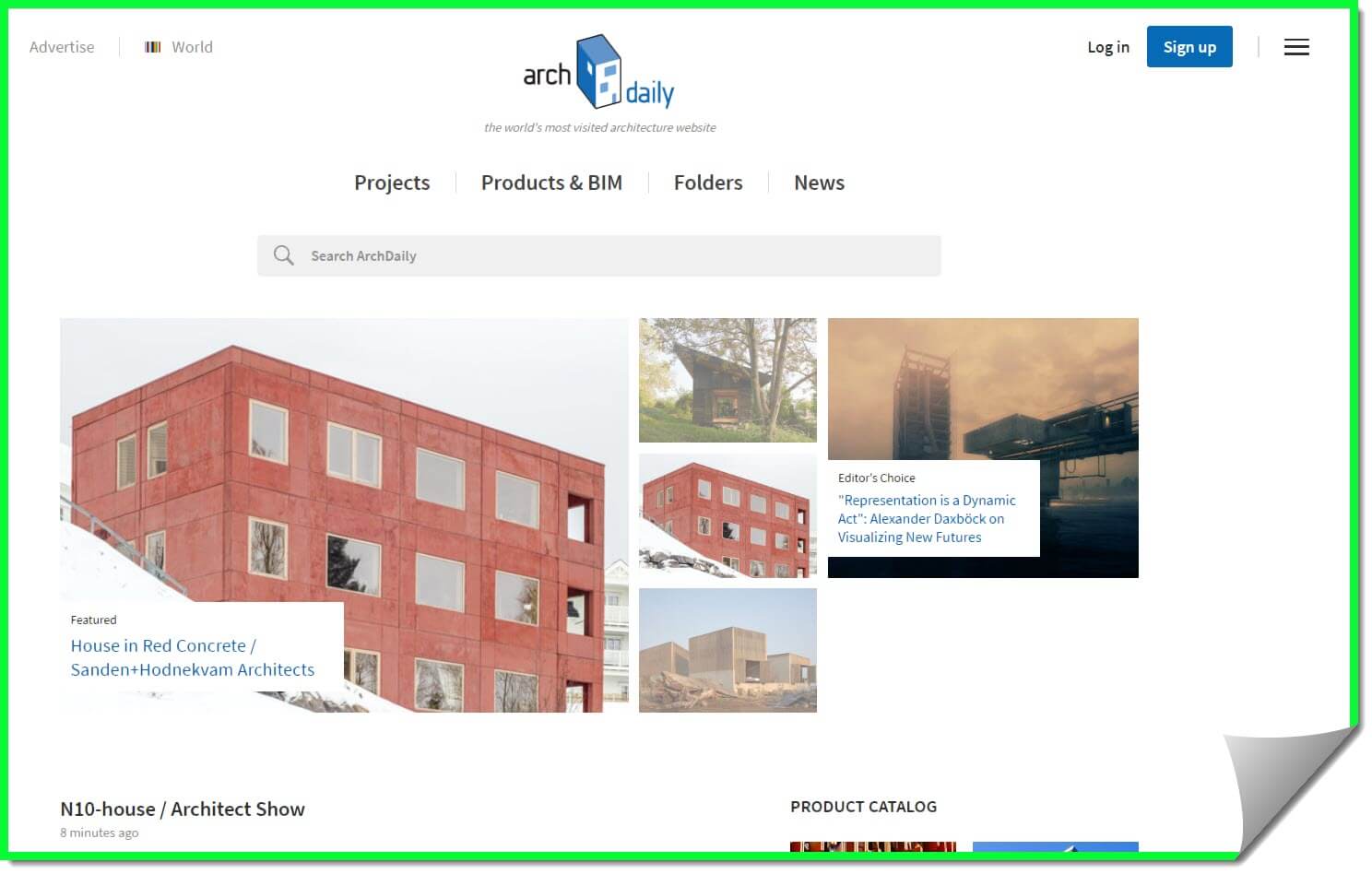 Not only can you learn from it but also submit your projects that may inspire others too. It has over 13.6 million readers every month and if you feel confident that your work may shine out, this is your best chance.
You can find many projects on the site based on country, categories, architects, etc. It can surely inspire you to change the way your home looks or any place you are thinking of giving a new look. 
In fact, there are blueprints of each of these projects, and every inch of information you would need if at all it may help you in the future.
If you have a product based on architecture or design that you need to advertise, there is a separate section for that too where there is a huge listing for that.
Apart from all this, the folder section is pretty useful for looking over the design of a certain section such as a House, School, Gym, Bank, and a lot more.
Furthermore, you do not need to search for Architect news separately anywhere else, but ArchDaily covers everything and keeps you updated at all times.
Important Highlights:-
Submit your best work and get featured on the site with 13.6 million monthly visitors.

Hosts multiple awards such as the building of the year where the winner is decided by the people for the people.

Tons of events are organized every year for all the Architectural enthusiast

You can participate in multiple competitions and get featured on the site.

Special section for Architectural photographers, Healthy design, Technology, etc.

Advertise your brand or product to grow your reach among 13 million architects
2. Apartment Therapy – Best architecture websites For Lifestyle and interior design
Apartment Therapy is a superb and highly useful Architectural design website where you can find multiple designs for your home and decorate it in the best manner.
The site came up live in 2001 by an interior designer and after years of working hard on it, Apartment Therapy is one of the best websites for Architecture design on the web. You can grab real-life design inspiration for your home or simply for decor.
Not only will you find designs that are on a higher level, but they are something that everyone can apply to their respective homes. From DIYs to shopping guides, you can get it all on this particular website.
The site has tons of house tours submitted by the readers that show the art and design behind each wall and how everything has been made so precisely. 
Among the multiple sections that are on the page are How to, Organize & Clean, Style, Living, Shop, and a lot more. You can simply type on different how-to keywords you might be searching for.
YOu may find some challenges on the site that can help you earn money too. Simply select your best work and submit it on the site.
Furthermore, there are tons of tips and methods on how to organize and clean your homes in a much better way with the least effort. For all the renters in the country, this section is of big help.
You can learn to save, and invest, get career advice from architects, Home furnishing tips, and more while you settle down in your new home.
Important Highlights:-
Multiple design challenges available for aspiring architects

Easy to find "how-to" guides for your home designs

There are tons of designs and ideas available to look at

Check out the amazing and one-of-a-kind house tours

Also, shop the needful such as furniture, decorative stuff, etc from the site itself.
3. Home Cult
If you haven't visited their site, well you must now. Home Cult is an exceptionally stunning website that has been designed for the sole purpose of helping out any seeker for their home designs or any other place for that matter.
The site is more focused on the concept of coziness and comfortability for anyone who is looking to get their home designed by an architect. We loved the entire website design; it is unique and has a lot going on as soon as you open the site.
Although the website has limited pages and they have not clustered it that makes it difficult to navigate.
Home Cult has listed down the major projects that they have taken over and completed successfully. You can take inspiration from such sites and improve yourself if you have just started in this field. Not only will the site get you inspired but also get to check out what you can make possible changes to your home. 
This current generation demands comfortability and the highest reliability and that is what we have to think of too when we think of hiring interior designers. The site has projects that are accessible to all based on category i.e Residential area as well as Commercial too.
These projects listed have some of the best photographs and the images are practically stunning. From seeing a single chair in every room, you can match it up based on yours.
Now, if you need them to decorate your homes or any other place, simply fill in the form and make a piece with it. 
By filling out the form you will at least know how they operate and fortunately, you can even get your request approved and get a beautiful home for yourself too. If everything goes well, you can get featured on their site with monthly followers of about 10 million+.
Important Highlights:-
Stunning and dynamics website with the best designs

Works on the moto to provide the perfect home design based on comfort and coziness

Take projects both for Residential as well as Commercial space

Some of the common categories they cover are Classic designs, Penthouse, and Family apartments.

Drop in your request to get your home designed
4. Architectural Digest – Best architecture portfolio websites
For all the information about different architectural designs and ideas, you can give a look at this informative and very popular Architectural Digest. It is a massive website that features top architects and designers from all over the world.
You can choose your country as well for more specific information. Not only architectural designs, art, etc, but you can also find reviews on books, culture, decoration, lifestyle, and a ton of other content.
You can get a monthly subscription to this website or the magazine that was launched in 1920. It is way more out there on the web than any other site and has been covering major architects and their stories, design, and a lot more for over a century now.
You will be thrilled to know that AD publishes nine international editions worldwide in multiple countries covering each country and its culture.
Apart from covering design content on the site it also has new shops and products, travel destinations, art, and cultural events, celebrity style, and high-end real estate as well.
Once you have paid for the magazine subscription you can access not only the entire content of the hardcopy but also photos, stories, floor plans, videos, and a lot more mentioned on the site that you can easily check out.
If you are interested in checking out more about Celebrity homes or mansions, they have a special section for that too.
Your favorite celebrity and a special home tour that you simply cannot miss looking over. It also has a store where you can get prints of real masterpieces on a frame by experts and order it for yourself.
Important Highlights:-
Has about nine international editions all over the world

Get access to all the content with the magazine subscription

Learn more about celebrity home tours for more information

It covers major architect's designs and stories

Has been operating for over 100 years
At the time of our research on Best Architecture Websites, we found a video about "14 Differences of Homes Around the World" which is worth watching. 🤴😎
https://youtu.be/RFf0XrsTsv0
5. Design Boom
DesignBoom is one of the most popular magazines and one of the best architecture websites that brings you more stunning designs from around the world and ideas for its readers.
This site was established in 1999 and has been impacting a lot of new architects and enthusiasts looking for great content. You can check out content from the sections such as Architect, design, art, tech, interiors, etc.
Each section contains massive amounts of info from different parts of the world. Such as you can learn about different buildings and how they have been made and everything you would want to know about these buildings.
In fact, you can find out the design patterns as well for your own project or simply for your own house. If you are one of those who have been searching for designs to redecorate their homes, well you may not need to look any further.
Moreover, we loved the video section of the site where everything is more visually appealing than reading about the designs. Not only will you find content and videos about the architectural world but also tech and more.
Well, the site also has multiple competitions that you can register for if you have amazing designs. With a massive reader base of about 3.5 million per month, readers will love to see your work.
There are options that you can choose if you want to promote your work for which you surely will have to pay. But if you can afford this, the huge reader base can reach out to you for further work or simply give you massive recognition.
The site also has a massive database of art collections, interior objects, home furnishings, lighting, flooring, fabrics, building materials, and more.
Some of its most unique attributes of Design Boom earned it a spot in our list of Best Architecture Websites.
A massive database of designs, furnishing, projects, flooring, art, etc are available

It has an international audience of 3.5 MILLION monthly readers

Magazines have a great number of categories apart from design and architect

Buy furniture for decor and other things from the official shop

You can even start selling on the site
6. Dwell
Dwell is an architecture website that is dedicated to architects, designers, and enthusiasts who are looking to learn and also discover more ideas for themselves.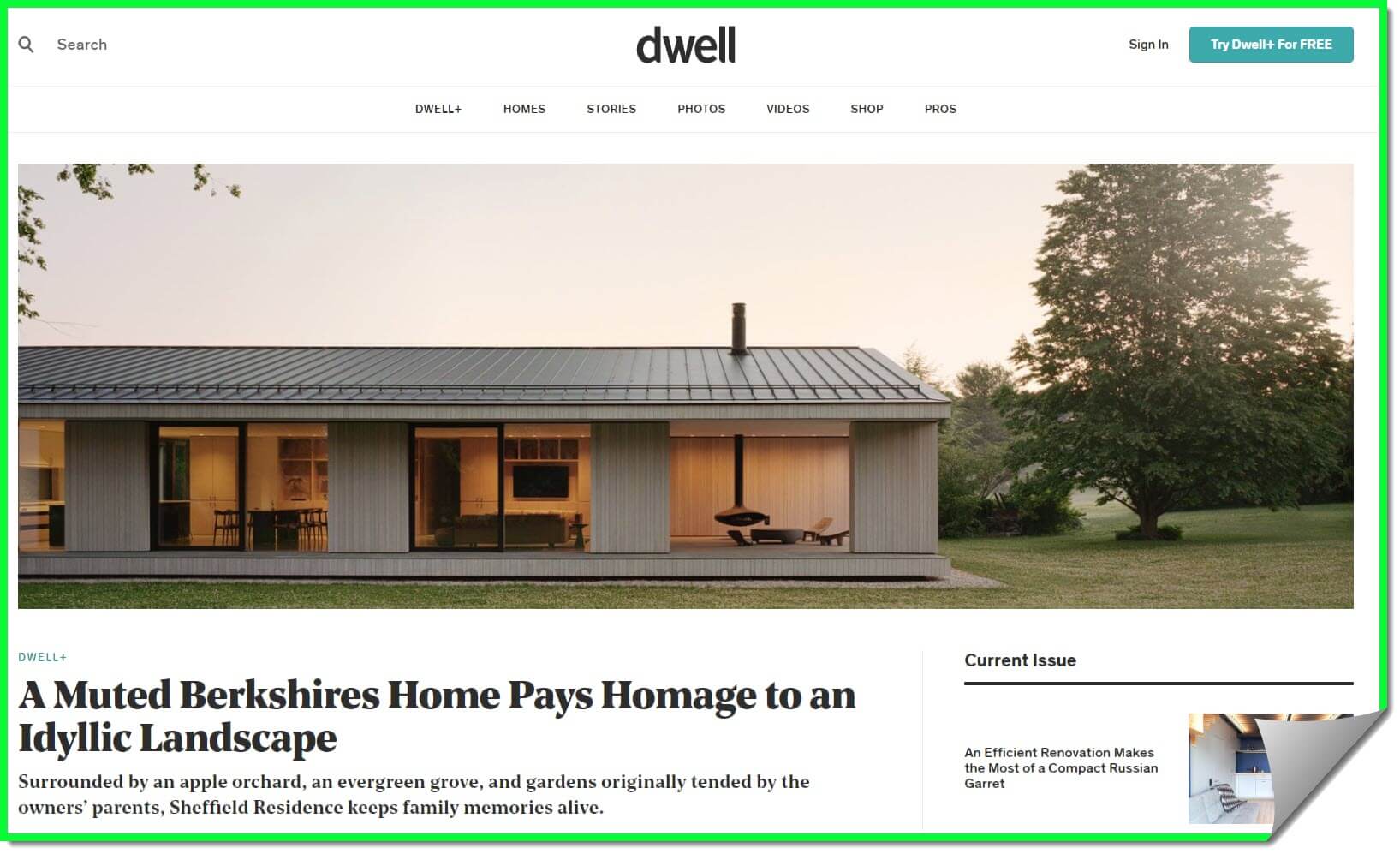 The site covers stories and designs of the architects who have built some of the most amazing pieces of building from all over the world. You can learn about them, get your hands on all the pictures, and every detail about the architect as well.
In fact, this website allows users to sign in and make their accounts on it. By doing this, you can like and comment on the posts or the designs that you like to keep supporting these artists.
If you have a story to share about your amazing home, there is an option for that as well where you can fill out a form mentioning your home and add photos. If you are approved millions of people will be able to see your home and you can get exposure as well.
If you are interred in reading stories in-depth about homes, home tours, renovations, travel, etc, you can check out the stories section. Each story will help you learn a lot that may be helpful in the near future.
Furthermore, simply click on photos if you would like to check out the most stunning photos of the kitchen, living room, bath, outdoors, etc. 
You can shop here too. It has furniture, bath & bed, lighting & fans, and shopping guides are mentioned too. If you are a seller, you can list your products here based on the concept of selling the products.
Some of its most unique attributes of Dwell earned it a spot in our list of Best Architecture Websites.
Dynamics website with loads of options to choose from

Stunning images and listing

You can find amazing and inspirational stories behind the buildings and designs

Check out the shops to buy anything you would want for your home

Take Dwell+ to know a lot more
Well, we have another website that is one of the best architecture websites and decor products that you may need while you renovate your home.
It has over 400.000 premium design products and materials to choose from listed under different categories such as Furniture, Kitchen & Bath, Wall & Floor, etc.
This site has over 16 million visitors annually and is the most popular among architects, designers, homeowners, design enthusiasts, etc. Since it is not possible to search every site and look for a good piece of furniture in the market for your home.
Hence, a platform such as Architonic makes it easy for beginners or simply those looking for unique design ideas or products to get their desired products. The process here is very simple.
Once you feel like this is the one, either you can first choose to look at the catalog digitally. Else, contact the seller or make requests directly for the product on the website itself. All the product description has been provided on the site with multiple HD photos.
You can even advertise on the site to get better exposure. Apart from simply the products, there are blogs too that you can choose to read that have good stories about certain architectural buildings or simply any stunning design. You can find a sofa, chair, tables, storage unit, lighting, etc.
Some of its most unique attributes of Architonic earned it a spot in our list of Best Architecture Websites.
Over 400.000 premium design products are available on the site

Interesting and inspiring stories of a marvelous piece of architecture

Unique products are found on the site.

Choose to search for whatever you are looking for

Sign in to keep yourself updated
8. Archilovers
Archilovers is the perfect website that connects people, projects, and architects in a single platform. There are basically three aspects that people follow on the site. You can start by creating your profile with all your info, work, portfolios, etc.
Next up you can simply publish your projects that will be under your name and you have the right over it, not the platform.  
As the website says, there is a speaker corner for each person where you can talk about your journey and your work. It can be featured on the homepage of the writers who love it. 
You can find tons of people that share similar skills as yourself and make connections that will be helpful to you in the future. Anyone can check out anyone's profile and work.
The more work you have completed and published, the lot more people will like to connect with you to know more about the work you do. This is excellent exposure.
To keep yourself updated, this website or the platform also has a mobile app that works just like LinkedIn but mostly for Architecture.
There are other options as well where you can choose to log in through your Facebook account. Similar to what we saw on the website Architonic, this too has millions of products listen on it and you can grab them too as per your wish to redecorate your home and bring in a fresh new look.
Some of its most unique attributes of Archilovers earned it a spot in our list of Best Architecture Websites.
Works as a professional platform for Architects

Get international exposure based on your work

Connect with professional people and learn from them

Check out the millions of products listed here

Make a stunning professional profile and start to get connected
9. Design Milk
Design Milk is an online design blog that focuses on keeping its massive sense of readers up-to-date on art, architecture, design, interior designing, etc. Similar to what we have seen before, the site has a reader base of 395 thousand per month.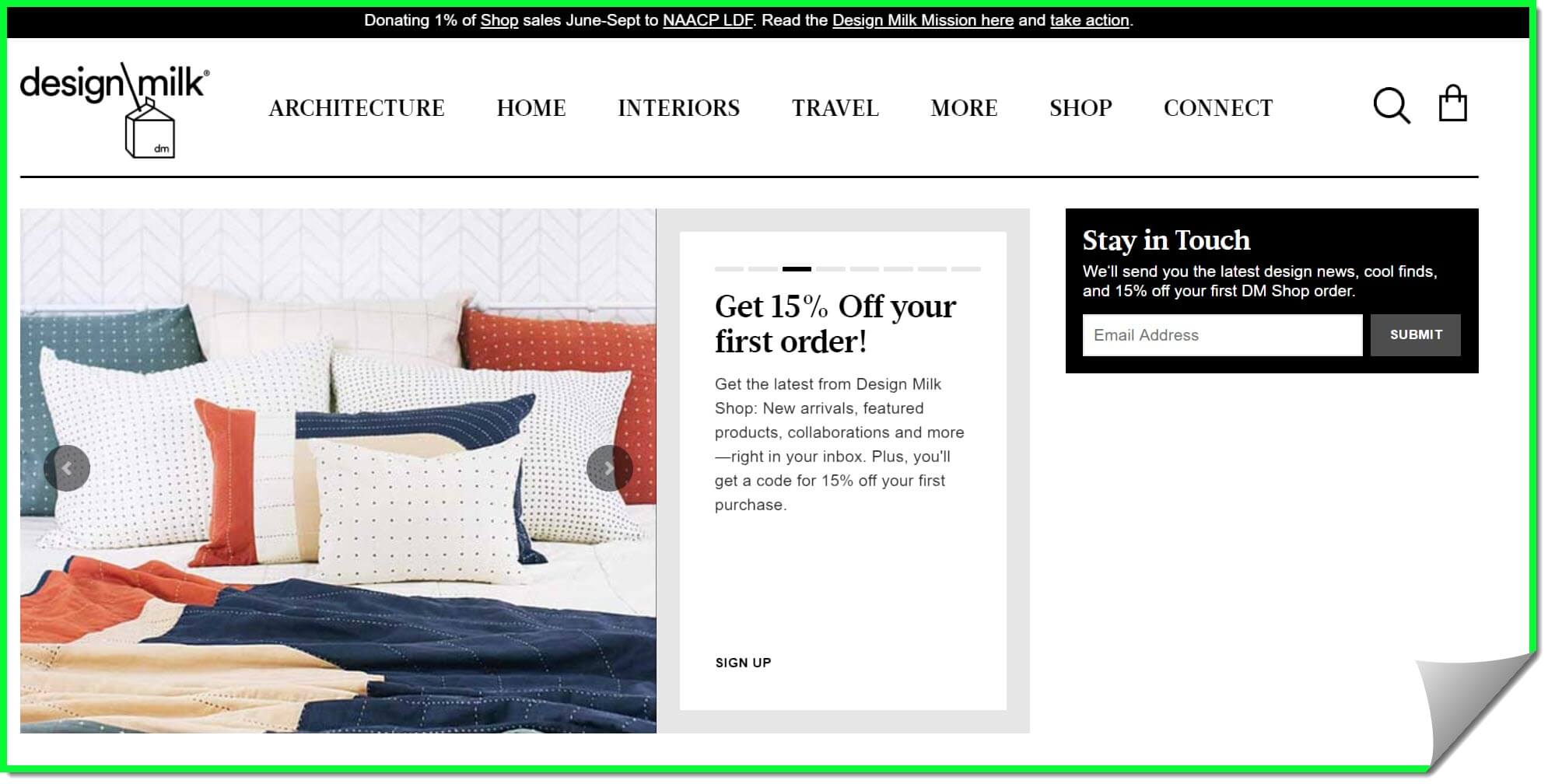 These visitors loved to read about architectural buildings, design, Homes, Interiors, Travel, and a lot more. You will find a lot of blogs on the site that cover everything you can ask for.
Well, these blogs are based on designs and creativity by the people for the people. They are designed and brought in the market not only for themselves but also for other people who would love to get their hands on unique products.
There are similar stories and blogs in the travels and interior sections. The site has a separate shop of itself where you can easily find the product of your choice and order too from the site thereafter.
Some of its most unique attributes of Design Milk earned it a spot in our list of Best Architecture Websites.
The store has a massive collection of Products

Features stories about Architects, designs, art, etc

Multiple categories of blogs to learn and know more

Submit your work
✅FAQ
Is ArchDaily a website? 
Yes, ArchDaily is one of the most popular Architecture websites. You can find tons of blogs, news, designs, projects, and so much more that can help other readers to get some inspiration for their next project.
Currently, there are over 17.9 million readers every month on the site. Other readers post their projects on the site to share a story with them, readers. 
What are the best websites for learning the basics of architecture? 
If you are new to the world of Architecture and have no clue where to learn the basics, you can check out certain educational websites that might help you.
Some of the best available on the web are Udemy, Coursera, Skillshare, etc. In fact, you can even find free courses on YouTube where professional architects help students learn the basics. 
What websites do architects use to draw plans?
Architects mostly use AutoCAD to draw 2D drawings such as floor plans, sections, and elevations. Moreover, you can even draw precise 3D designs. With the help of a library of APIs, LISP functionality, and specialized toolsets, this tool can make your tasks a lot easier by automating them. 
Can I learn architecture on my own? 
You can learn any course independently since multiple online courses are available. Simply choose any free or paid course on websites like Udemy, Skillshare, YouTube, etc.
You can even connect with like-minded people worldwide and make connections to learn more. 
Do Architects use SketchUp? 
Millions of Architects use SketchUp around the world to make 3D models of buildings, landscapes, etc. Well, it is a great tool for beginners since the interface is a bit simple and easier to understand.
Anyone who has basic knowledge of architecture can start making their building models using the simple tools available on this software. 
Do architects need a website?
Having a website is important to create a portfolio of all your projects and designs. You can showcase all your work through your website to all potential clients and help them understand your skills for future projects. 
Final Thoughts on websites of architecture
Having this massive list of the best architecture websites may be enough for you to at least start with.
There are loads of such websites other than this that have similar functions and have the sole purpose of providing you with better design ideas to learn from them. These websites are exceptionally good for new-age architects who are looking to reach out to more people and showcase their designs.
As we have mentioned some of the websites allow you to submit your best work. In fact, you can even create your profile and connect with people in your profession.
This makes it a lot easier for you to maybe search for work and get enough recognition you deserve. If at all you wish to tell us about other websites you browse through daily, do let us know in the comment section so that others can try it out as well.